Regular price
Sale price
₱459.00
Unit price
per
Sale
Sold out
Share
View full details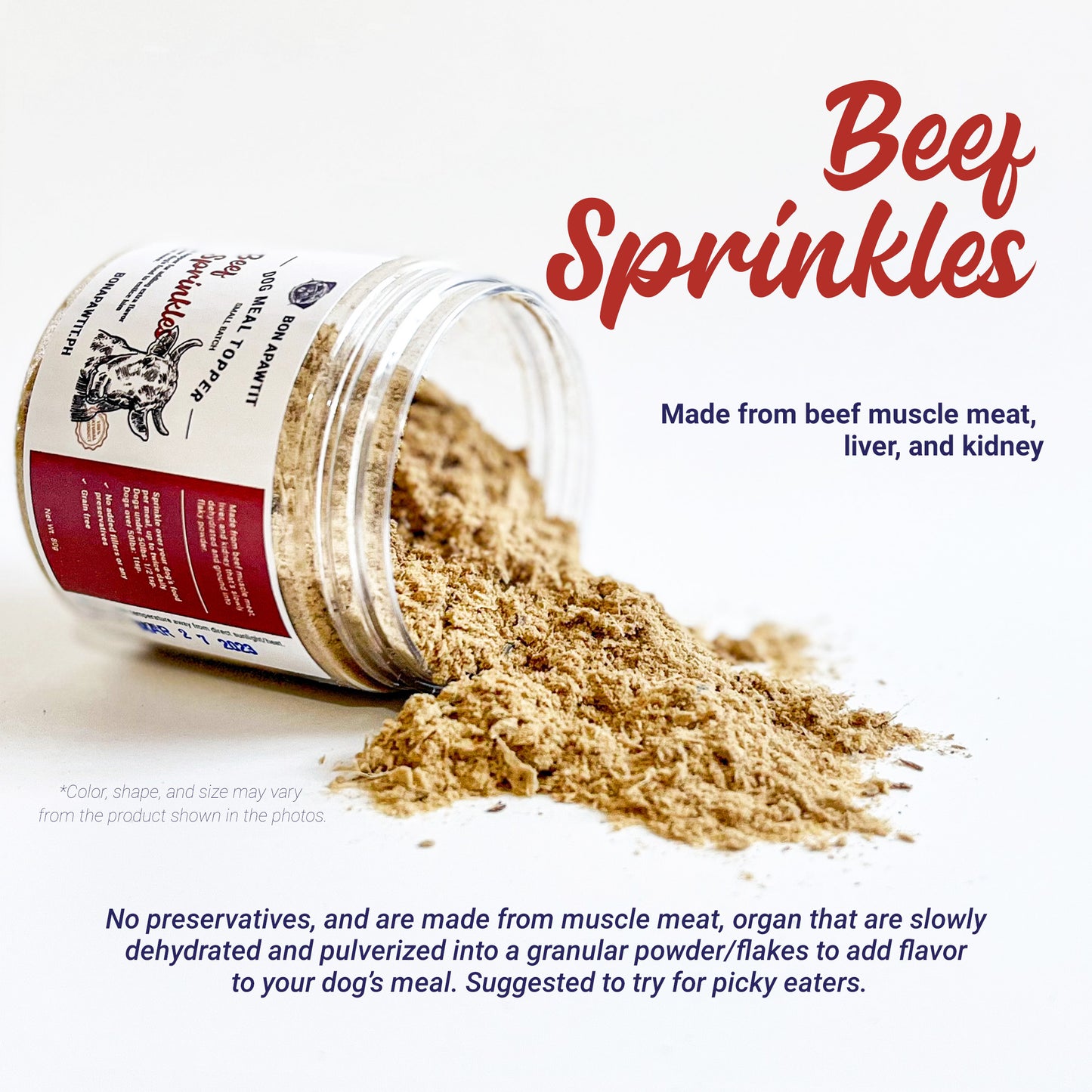 Let's get into the nitty gritty details.
Highlights

DOG MEAL TOPPERS (MEAT), are all-natural, have no preservatives, and are made from muscle meat, organ, and bones that are slowly dehydrated and pulverized into a granular powder/flakes to add flavor to your dog's meal. Suggested to try for picky eaters.

🐄 𝗕𝗘𝗘𝗙 𝗦𝗣𝗥𝗜𝗡𝗞𝗟𝗘𝗦 (𝗡𝗘𝗧 𝗪𝗧. 𝟴𝟬𝗴)
(Made from beef muscle meat, liver, and kidney)

Feeding Instructions

◉ Sprinkle some on your dog's food or inside treat toys, and turn anything into tasty food! You can also add a bit of water together with their meal to avoid the powder getting sniffed too much by your dog

◉ Daily Serving Size/Recommended Portion:
- Dogs under 50lbs: 1/2 tsp.
- Dogs over 50lbs: 1tsp.


◉ Note that since this is just pure meat parts, you can add more but just like treats, should not make up more than 10% of your dog's daily diet.

Storage and Handling

◉ Toppers/Sprinkles and Supplements are packed inside a plastic bottle jar and not a seasoning jar. This is to ensure an adequate amount of toppers is being poured into your dog's meal by using a measuring or a regular spoon.

◉ Best consumed within 30 days upon opening. Shelf life of one year from the date made, stamped on the jar

◉ Upon receiving the order, we recommend storing your toppers in a room temperature. Avoid storing near a heat source or direct sunlight and keep dry and away from any form of liquid. Storing an OPEN jar in the fridge/freezer actually adds a bit of moisture back into the treats and chews, increasing the chance of mold growth.

◉ To know if moisture or heat has affected your toppers, their flavorful smell will decrease and its palatable effectivity will result in your dogs not liking the toppers anymore. This indication of change tells you that the state of preservation has been compromised and your food may begin the process of deterioration — and depending on the amount of moisture present, the onset of mold and bacteria may occur. Toss it in the trash and do not let your dog eat it!
All- Natural Ingredients

Made only from beef muscle meet and organs
Beef Sprinkles Topper (80g)
Beef Topper
My picky dog loves it so much.
BEEF SPRINKLES
Some days I dont like eating my kibbles but w beef sprinkles on it, man I almost forgot Im eating kibbles at all. LIKE MUM IZ THIS A STEAK — lol but yeah
Beef Sprinkles Topper (80g)
A WONDER TOPPER ❤️
Cooper has recently become a picky eater that it would take me an hour or more (involves a lot of chasing) to get him to finish his food. Fortunately, I came across Taco's (tacothecockerspaniel) IG and read about the bonapawtit toppers and their experience with it. Ordered for the trio and I swear it's MAGIC. No more chasing Cooper and having to perform tricks to get him to eat because he does not stop eating until he's done. Healthy Cooper, happy hoomom.