Regular price
Sale price
₱289.00
Unit price
per
Sale
Sold out
Share
View full details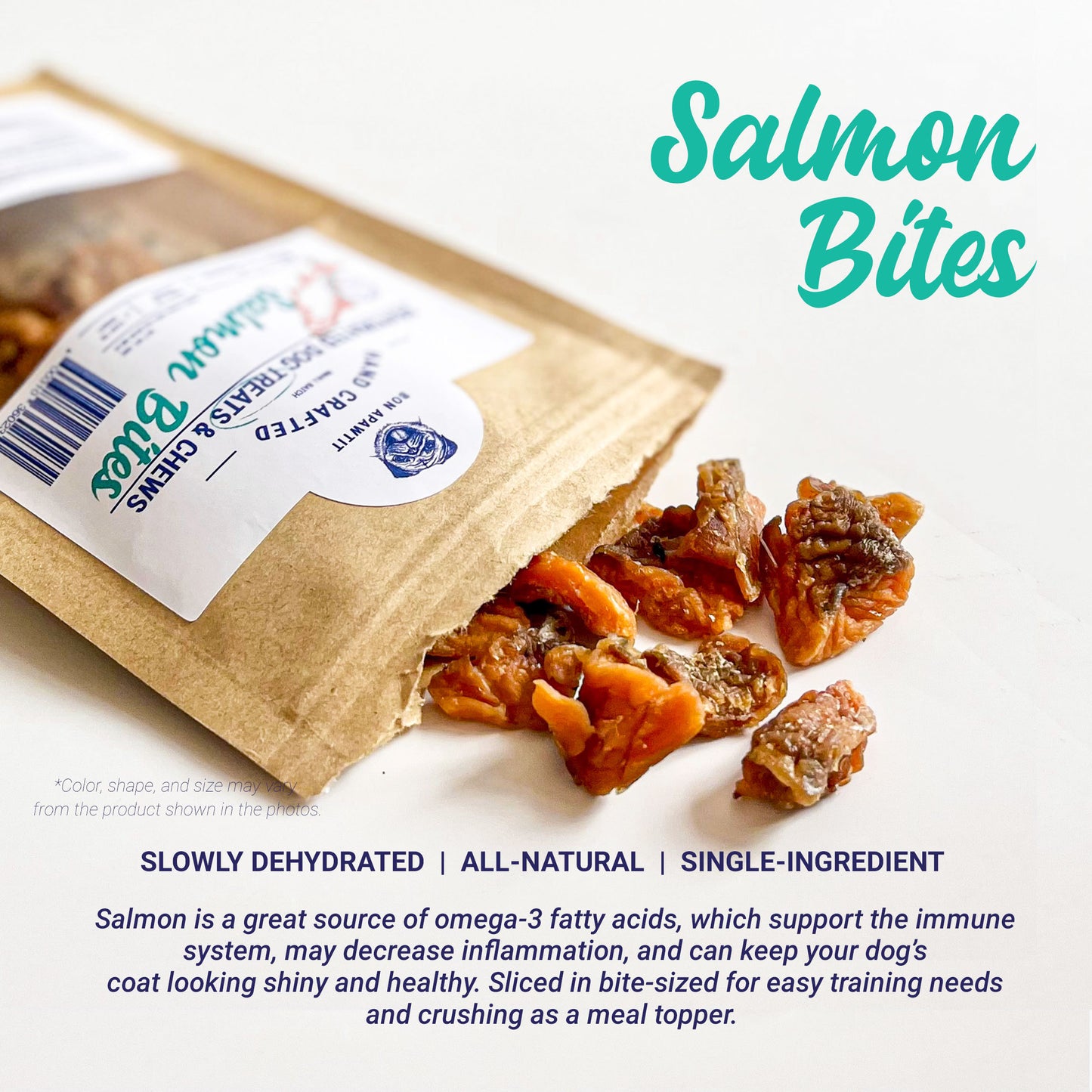 Let's get into the nitty gritty details.
Highlights

𝗦𝗔𝗟𝗠𝗢𝗡 𝗕𝗜𝗧𝗘𝗦- a great source of omega-3 fatty acids, which support the immune system, may decrease inflammation and can keep your dog's coat looking shiny and healthy. Sliced in bite-sized for easy training needs and crushing as a meal topper.


Feeding Instructions


◉ The general rule of thumb is to eat in moderation. Treats are intended as a reward for good behavior and they should not replace your dog's regular food or occasional tummy rubs. Treats should not make up more than 10% of your dog's daily diet. Also, be sure to always supervise your dog while they are munching, and to have a bowl of fresh water available at all times.

◉ If it's your dog's first time trying the treats, we highly suggest introducing them slowly and monitoring for possible allergic reaction
Storage and Handling

◉ The treats are packed in a resealable stand-up pouch making it a perfect solution for an on-the-go snack or reusable storage at home. Also comes with natural Silica Gel inside the pouch to help absorb moisture.

◉ Treats: Best consumed within 30 days upon opening, Chews: Best consumed within 7-14 days upon opening

◉ Upon receiving the order, we recommend transferring the treats/chews to an air-tight container with silica gel. Room temperature is suggested. Avoid storing treats/chews near a heat source or direct sunlight and keep dry and away from any form of liquid. Storing an OPEN pack in the fridge/freezer actually adds a bit of moisture back into the treats and chews, increasing the chance of mold growth.

◉ To know if moisture or heat has affected your treats, they will begin to soften and possibly enlarge a bit in size on their own. This indication of change tells you that the state of preservation has been compromised and your food may begin the process of deterioration — and depending on the amount of moisture present, the onset of mold and bacteria may occur. If there is a presence of mold, toss it in the trash, and do not let your dog eat it!
All- Natural Ingredients

- Made from 100% Norwegian salmon only
- All-natural (No Preservatives or any additives)
My dogs love all their treats. Our favorite place to get treats that don't trigger their food sensitivities!
Pet-approved!
My pet goes crazy over the salmon bites the moment i open the packaging. This makes training easier and i even crumble it to use as meal topper. Highly recommended!